UI Kit Freebie (Newsroom)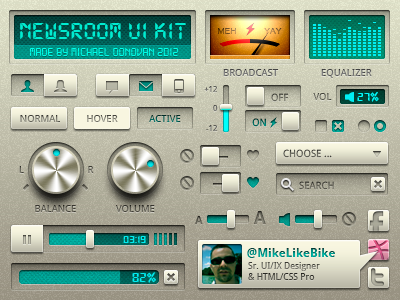 Kudos to the author for providing an exact licensing term, quoted as follows:
Personal Use: You can use this for any personal (non-profit) project or to experiment with Photoshop, etc. without any attribution necessary (but if you want to throw some kudos, it would be much appreciated).

Commercial Use: You must contact me BEFORE it is used in any commercial project in any way and the design must be attributed to me.

Sharing: You can share this with others by linking them back to Dribbble, but you may not host or distribute this PSD on your site.
UI Kit Freebie (Newsroom) is a free UI Kit design resource made by Dribbble user Michael Donovan. As far as I can tell, its license is Free for Commercial and Personal Purposes.
Helpful hint: Dribbble users are nice. If the license is unknown, it is usually because they forgot to mention it explicitly; not because they were being stingy. Ask nicely and they will probably allow you to use it.
Similar Resources: